Welcome to one of my first behind the scenes blog posts! I am looking forward to posting these more often alongside my newsletters.
NB: the photos below, unless otherwise stated are for reference/blog post purposes only.
Several months ago I got a phone call from Sonia at Artistics who asked if I would be coming to France anytime soon, so we could do a video interview for my profile on the site.
I didn't have any plans but there were a lot of abandoned locations I had on my map for a while and had wanted to check out. I drove alone from Wiltshire at 11pm and after a rough ferry crossing and a few desperately needed coffees I arrived at the chateau pictured below at 7am. I wanted to make the entry as discreet as possible as I would have Sonia and the videographer with me. After silently going through the woods (the back garden!) and doing a bit of filming, I started looking for the entry and luckily for them (and me!) there was a window wide open.
During WW1, this beautiful castle was occupied by German staff. It was damaged by bombing and ransacked by the troops. A nobleman restored it and passed it down to his daughter. Again in WW2 it was used and then remained empty for a long time. It was sold over 30 years ago, and I think it has been abandoned for quite some time, and after seeing a few clues, this chateau was in the process of renovation. It had buckets , building materials and tarpaulin around but seemed to of halted for some reason. It was interesting to see signs of architectural styles changing, extensions made and outbuildings added. One entire side of the chateau had completely caved in and was exposed to the elements.
It was a really beautiful chateau and I knew as soon as I got inside I would definitely be using an image from the shoot for the new series Incremento, as the level of decay was perfect for what I wanted to achieve within the series. The first room I came across when inside had a lot of antique furniture and a billiard table.  I noticed straight away how dark it was inside, especially at 7am before the sun had risen, so knew the exposure times would be quite long. (note the photos of the billiard room below are from my second visit) That gave me a chance to have a look around the other rooms and have a think about what I wanted to shoot.
I was really excited to come across the two rooms below, even though the first one looked like it came from a movie set it was undoubtedly beautiful and the stunning furniture was sitting there unused. There were paintings and books lying around, and a fencing mask, old photos too. Interesting that there was a bed in the same room as the library. Perhaps the owner was quite old and couldn't go up the stairs. I wouldn't of wanted to risk it daily (see later in the blog about that!)
In the second room there was a whole wall dedicated to shelfs for books. It was a strange mixture of the old and new, with Astrix comics and 60's clocks, tea tins, the owners paperwork and really old literature moulding away. As soon as I walked into this room and saw the worn doorway, the painting above with the exposed brickwork, I knew this was the angle I wanted to shoot.
This piece is called Les Histoires and I have released the image below as an artwork in my Incremento series. I first showed this at The Other Art Fair in Victoria House in April. The first edition was acquired by a lovely lady, who decided she wanted it in her home within a few minutes of seeing it at my stand there.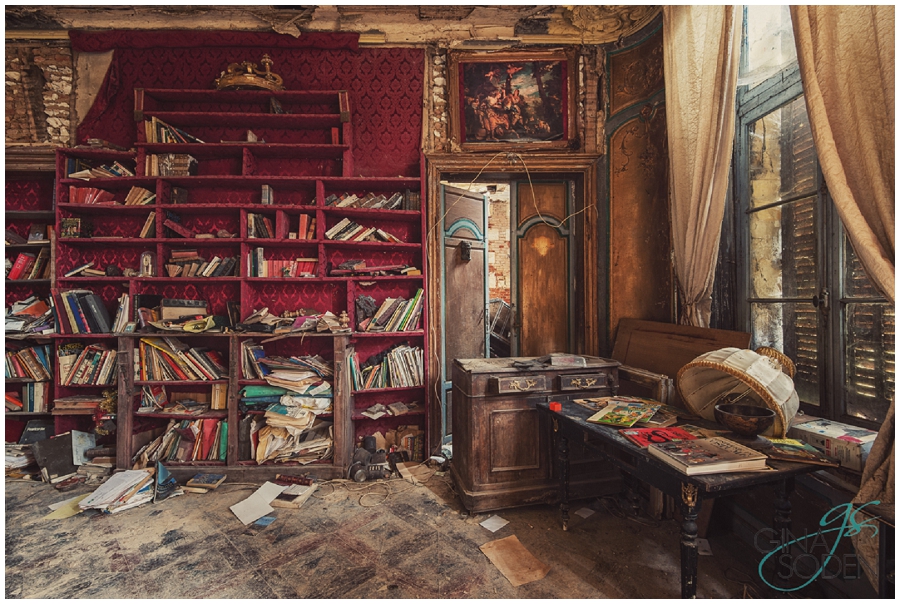 Les Histoires, 123 x 88cm mounted and framed, Edition of 10. Incremento series, 2015
I then looked around the rest of the chateau and took a few reference photos. A lot of the rooms were empty, aside the bedroom below. Apart from the library, the staircase was a real treat. It was slowly falling apart, when I walked up and down it it was leaning to the right slightly, so I didn't stay on the steps too long.

Not much surprises me now as I have come across all sorts of things while shooting locations, but I must admit the mannequin did momentarily give me a fright when I turned around to shoot the corridor. Getting to the upper levels and the floors were becoming pretty dodgy. I made sure to tread carefully. NB: the photos below are for reference/blog post purposes only.
I would return the next day to shoot it with some more time and so I could go to the other locations before the local residents all started waking up and going to work.   Unfortunately a few of them had been renovated, demolished or had new owners.  Another one that I found looked promising but there was no way in. I then braced myself for an interview without a solid night's sleep and lots of driving. It was great to talk about my work in such a candid way. Take a look below!
I hope you enjoyed reading this behind the scenes blog and watching the video, I'd love to hear what you think, so please leave a comment below.
 Gina Soden – London Fine Art Photography